The Sacrament of Reconciliation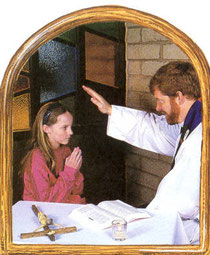 The Sacrament of Reconciliation is celebrated each week:
At St Mary's, after the Friday morning Mass, from 9.30am to 10.30am.
At St John Fisher, after the Saturday evening Vigil Mass, from 6.45pm to 7.00pm.
There are additional opportunities each year during Holy Week, which are at times published in the Holy Week & Easter Service Cards. Also, we start the liturgical season of Advent each year with the First Celebration of Reconciliation for our children in the annual Sacramental Programme.
In former times, the Sacrament of Reconciliation was known by other titles such as "Confession" or "Penance". 
A simple "Guide to the Sacrament of Reconciliation" is available to download below.