Care for Sick, Dying and Deceased

The Catholic Church is faithful to the healing ministry entrusted to it by Jesus Christ himself.
In the Scriptures, St Mark recounts how Jesus sent out with his authority his 12 Disciples, who "anointed with oil many that were sick and healed them" (Mark 6:13).
Later, St James recounts in his Letter: "Are there any sick among you? Call for the priests of the church, and let them pray over him, anointing him with oil in the name of the Lord; and the prayer of faith will save the sick person, and the Lord will raise him up; and if he has committed sins, he will be forgiven" (James 5:14–15).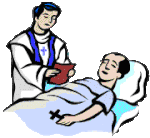 Today, we live out this ministry by pastoral visits to the Sick and Housebound for Holy Communion, prayer and solidarity. When appropriate, the Sacrament of Anointing of the Sick is administered, sometimes at home or in Church, or sometimes in Hospitals, Care Homes or Hospices.
In the Catholic Church family, we mark the passing from our life in this world to the eternal life promised us in the Kingdom of Heaven with particular Requiem Rites, especially the Requiem Mass or Requiem Service which precedes burial or cremation.